Excursions Outside Florence
Inspiration
Siena is a UNESCO World Heritage Site within day-trip distance from Florence
Our Top Experiences and Tours in Florence:
If youʻre booking your trip to Florence last minute, we have you covered. Below are some of the top tours and experiences!

Sure, Florence is an amazing city brimming with art treasures, a city steeped in history and intrigue, but if you are visiting it would be a shame to miss out on other pearls that you can find by exploring outside of the city. Here, we give a short list of towns and cities that you should attempt to work into your itinerary if visiting Florence, as all are worth taking the time to discover during your holiday.

San Gimignano

Standing on a hill overlooking the countryside of the Valdelsa, San Gimignano is approximately 56km south of Florence. San Gimignano is a town declared by UNESCO to be part of the World's Architectural Heritage and is known as "the town of beautiful towers" – a nod to its impressive skyline of medieval towers. In fact, the Patrician families who once controlled the town built about 72 tower-houses to stand as a lasting symbol of their wealth and power. Today, only 14 have survived but San Gimignano has retained its particularly charming atmosphere and houses important masterpieces of 14th and 15th Century Italian art. It is easily reachable from Florence by car or by bus link using Sita.

Lucca

Lucca lies in a valley just north west of Florence. A well preserved example of Medieval architecture, Lucca's historical appeal makes it one of the most instantly charming towns in Tuscany. The first thing you will notice about Lucca is likely to be the wonderfully preserved Renaissance era town walls that still surround all of the Old Town. This is particularly unusual in that many cities lose their medieval features following long periods of expansion, and the city walls are the major draw for tourists thinking of visiting Lucca. Lucca can be reached by car by taking the A11 motorway, or alternatively can be accessed by train.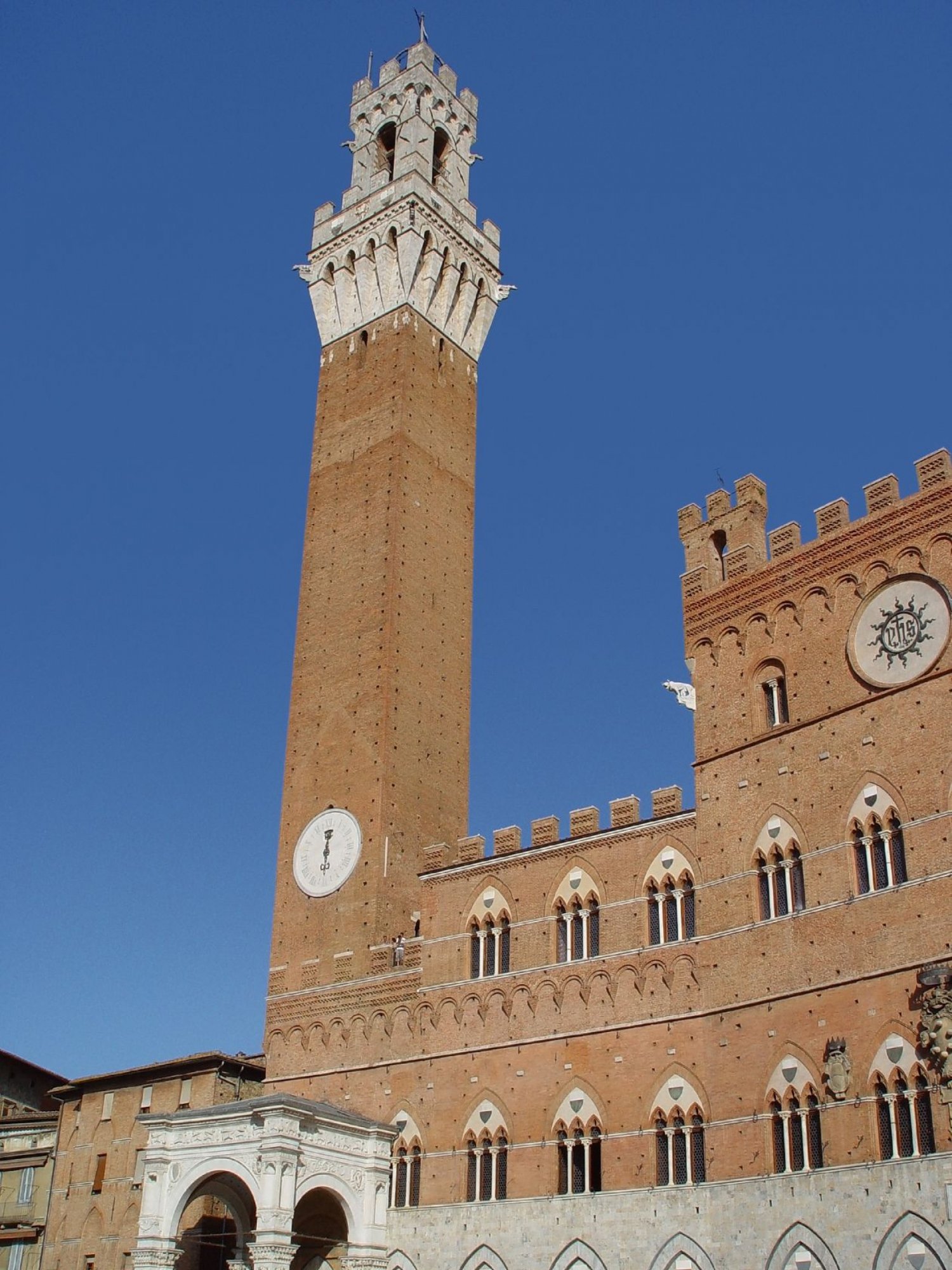 Pisa
Who doesn't know the world famous Leaning Tower of Pisa? Yes, this city is famous all over the world for its particularly slanted monument, but it offers many other interesting  architectural and artistic marvels to draw the attention of visitors, such as its cathedral. The city centre is noticeably small, making it a manageable destination to see as you can get to know the city simply by walking through the central streets. Pisa is also culturally important for its university , which makes the city an exciting meeting point for students. By attracting the student crowd, Pisa thus offers many cultural events throughout the year.
Siena
Siena is a UNESCO  World Heritage Site within day-trip distance from Florence. Moreover, Siena is one of the nation's most visited tourist attractions, famous for its cuisine, art, museums, medieval cityscape and the Palio di Siena, a horse race held twice a year on June 2and August 16. During the Palio di Siena, ten jockeys ride bareback on their horses in a frantic race which can last around 90-seconds. The winding city course is hazardous for jockeys and each year some find themselves thrown off their mounts. The spectacle draws large crowds and is one of the most culturally impressive events in the Florence region. It is certainly worth making the trip should you happen to be in Florence around each race day. Perhaps the most convenient way to reach Siena from Florence is by taking the bus with Sita.
By using Florence as a point of access to the rest of Tuscany, you will have the opportunity to explore Italian towns packed with history and heritage. Looking beyond Florence can open your eyes to one of the most beautiful regions of Italy.